Are you curious about the different types of herons you can find in Montana? Well, look no further! This article will give you a glimpse into the fascinating world of herons and their habitats in Montana. From the majestic Great Blue Heron to the elusive Black-crowned Night-Heron, each species has its own unique characteristics and behaviors. So grab your binoculars and get ready to explore the diverse birdlife that can be found in Montana's water habitats.
Great Blue Heron
Identifying Characteristics
The Great Blue Heron is a very tall and large bird, with a long neck and a wide black stripe over their eye. As the name suggests, they are a grayish-blue color. They have long feather plumes on their head, neck, and back, which adds to their majestic appearance.
Range Map
The Great Blue Heron is typically seen in Montana along the edges of rivers, lakes, and wetlands. They are known to inhabit a wide range of habitats across North America, from coastal areas to freshwater marshes.
Habitat and Behavior
Great Blue Herons are often seen in shallow water, where they enjoy wading through to find food. They can be motionless or move very slowly as they search for their prey. These herons are skilled hunters and have a keen eye for spotting fish, frogs, reptiles, small mammals, and even other birds. Once they spot their prey, they strike quickly and ferociously to grab it.
Food
The main diet of the Great Blue Heron consists of fish, but they also consume other aquatic organisms such as frogs, reptiles, and small mammals. They have been known to eat birds, including small herons and waterfowl.
Nesting Habits
Believe it or not, Great Blue Herons mostly build their nests, which are made out of sticks, very high up in trees. In addition, they almost always nest in large colonies that can include up to 500 different breeding pairs. And unbelievably, almost all of the breeding pairs nest in the same few trees!
Sounds
When disturbed, these large birds make a loud "kraak" or "fraunk" sound, which can also be heard when in flight.
American Bittern
Identifying Characteristics
The American Bittern is a medium-sized, stout heron that is a buffy brown color. Its underparts are white with brown streaks. These herons have a unique appearance and are relatively easy to identify.
Range Map
The American Bittern is found in freshwater marshes across Montana. They can also be found in other parts of North America, including the central and eastern United States.
Habitat and Behavior
American Bitterns are known for their secretive behavior and their ability to blend in perfectly with their surroundings. They often stand motionless in the water or among vegetation, waiting for their prey to come near. When the prey is in range, the bittern will quickly dart its head forward to grab it.
Food
The American Bittern feeds on a variety of aquatic creatures, including fish, invertebrates, amphibians, and reptiles. They have a specialized digestion system that allows them to regurgitate indigestible parts as pellets.
Sounds
Sound is one of the best ways to find the American Bittern in Montana. During the breeding season, they produce a loud, odd-sounding "oong-KA-chunk" call, which has a liquid sound to it.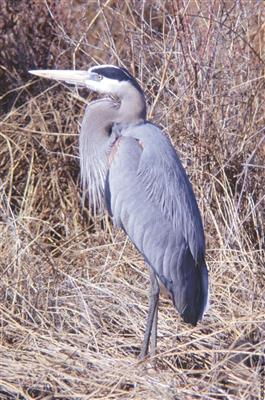 Black-crowned Night-Heron
Identifying Characteristics
The Black-crowned Night-Heron is a relatively small, stocky heron with a compact body. It appears a bit hunchbacked, as it often tucks its neck into its body. It has a black head and back, which contrast against its white belly and gray wings.
Range Map
Black-crowned Night-Herons are common in wetlands across Montana and can be found in various parts of North America. They are the most widespread heron in the world.
Habitat and Behavior
As their name suggests, Black-crowned Night-Herons are most active at dusk and during the evening. During the day, they hide among brush and vegetation near the water's edge. By foraging at night, these birds avoid competition from other heron species.
Food
Black-crowned Night-Herons feed on a variety of aquatic creatures, such as fish, frogs, crustaceans, and insects. They have a versatile diet and are opportunistic feeders.
Sounds
When surprised or under duress, Black-crowned Night-Herons give a loud, barking "quawk." While at their nesting colonies, they can produce a variety of other croaks, barks, hisses, screams, clucks, and rattles.
Additional Resources
If you're interested in learning more about herons and other bird species, here are a few resources you can check out:
National Geographic Field Guide
The Stokes Field Guide
These books provide detailed information about various bird species, including their identification, behavior, and habitat.
Whether you're an avid birdwatcher or simply curious about the wildlife in Montana, learning about different heron species can be an enjoyable and educational experience. By understanding their identifying characteristics, range, habitat, behavior, food preferences, and sounds, you'll be better equipped to spot and appreciate these majestic birds in their natural environment. So grab your binoculars and get ready to explore Montana's wetlands and water habitats to catch a glimpse of these fascinating herons!